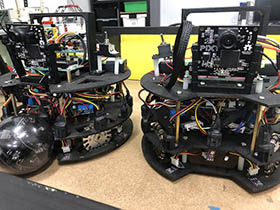 This year the studio was lucky enough to host 4 teams competing in the Robocup Jnr competition.
We had our wonderful OnStage performers who put together a performance with our Vex IQ robots. They did such a wonderful job with their performance.
The lightweight soccer team narrowly missed out on the finals, which was a great achievement after needing to make some last minute repairs on their attacking robot. The goal keeper 'Jerry' saved countless goals, the true robot of the match.
Our young rescue team this year decided to put their Python coding skills to the test and attempt the rescue challenge with Python. The preparation was looking really great, the robot was performing well in the studio. On the day, a few different configurations tripped the robot up in some places especially with some inclines. The team did such an amazing effort to compete, so good to see.
Our senior team undertook two challenges this year, we spent a good part of the year working on the lightweight custom soccer robots. This was a massive undertaking as these robots had custom 3D designed parts, custom circuit boards and sensors. While we had a few issues on Saturday the team made some improvements for Sunday. Better still we came away from the competition with an enormous amount of experience that will help us out next year.
The second challenge the team undertook was the maze challenge. We took this up a few weeks before the state championships, mostly to gain some experience for next year. Again we came away with some skills that we are keen to build on next year.
We are so proud of every team member, it has been such a delight to work with you this year.
We look forward to next year's Robocup Jnr event!